Clay Women's Empowerment Council presented by Ascension St. Vincent's- Guest Speaker Clay County Sheriff Michelle Cook
Clay Women's Empowerment Council presented by Ascension St. Vincent's- Guest Speaker Clay County Sheriff Michelle Cook
Thursday, May 4, 2023 (11:30 AM - 1:00 PM) (EDT)
Description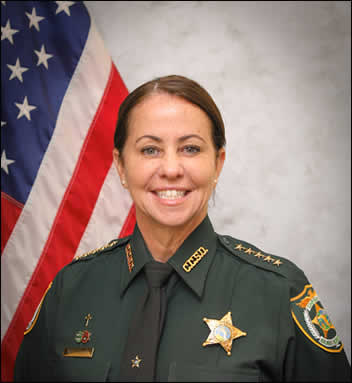 Clay County Sheriff Michelle Cook entered the law enforcement profession as a Patrol Officer, working as a beat cop on the street in 1992. With earned promotions throughout her career at the Jacksonville Sheriff's Office (JSO), Michelle retired as a 3-star Director, and 3rd in command, from the JSO, a 3,300-person agency and the nation's 25th largest police department. As Director of Patrol and Enforcement, her responsibilities included the strategic deployment and activities of more than 1,000 first responders and community relations personnel, and direct management of a budget of more than $100 million. She oversaw the more than 1,000 special events that occurred in the Downtown Jacksonville area each year, and served as the agency lead on collective bargaining, routinely working with elected officials while promoting the law enforcement mission.
In 2017 Michelle accepted the position of Chief of Police for the City of Atlantic Beach, Fl. The Atlantic Beach Police Department (ABPD) is a full-service agency with a budget of $6 million, serving approximately 14,000 residents and handling approximately 25,000 calls for service each year. Under her leadership, the City of Atlantic Beach saw a decrease in the crime rate and improved employee and citizen morale and support. She is credited with successfully leading the ABPD through the Florida Commission for Law Enforcement Accreditation process. She is also credited for writing the City of Atlantic Beach All-Hazard Response (hurricane) plan.
In early 2020 Michelle retired from the Atlantic Beach Police Department and began her campaign for Sheriff in the County she was born and raised in. Michelle beat out five other candidates to win her primary and was declared the winner of the race for Clay County Sheriff. Shortly after her victory, Governor Ron DeSantis asked Michelle to start her term early, and on September 1, 2020 she was sworn in as Sheriff of Clay County.
Recognized for her extensive experience and leadership in law enforcement, Michelle has built a reputation of being a firm, yet compassionate law enforcement leader whose integrity and genuine management style bring respect not only from her work family but also the community she serves.
Michelle has a master's degree in Criminal Justice from UNF and a bachelor's degree in Criminal Justice and a minor in Public Administration. She is also a graduate of the FBI Law Enforcement Executives (LEEDS – Session 80) training and a member of the Florida Sheriff's Association
The Club Continental
2143 Astor St



Orange Park

,

FL

32073



Event Contact
Kathryn Wills
Thursday, May 4, 2023 (11:30 AM - 1:00 PM) (EDT)
Categories
Lunchtime Events
Council Meetings
Chamber Events
CWEC